Why and How to Delay Your Game's Release Date
One of the hardest decisions to make when it comes to game development is whether or not a delay is your best bet.
A delay can be disappointing news, not just for the fans anticipating its release but also for the team working on it. However, a shrewd delay can provide your team the necessary time to refine a game without resorting to unnecessary crunch, or can position it away from highly anticipated AAA releases that could drown out its launch. Whatever the reason, delaying a game is a useful tool at your disposal – and when done correctly is far from the negative PR hit you might expect.
Why Release Date Delays Are Worthwhile
In a 2012 interview with The Guardian, Shigeru Miyamoto famously said "A delayed game is eventually good, but a rushed game is forever bad", and it's an opinion that has been proven right time and time again. Sometimes, for whatever reason, a game needs more time. In these situations it's far better to hold back on releasing a game until it's up to snuff. After all, you can only release a game once, and the first impression a game makes is often the one it has forever.
Delaying your game can be a great option when you're worried about getting overshadowed by another game's release. The next Call of Duty, Final Fantasy, or Bethesda game is almost certainly going to dominate its release period, so launching around those monstrous competitors could lead to a sizable portion of your potential audience being otherwise distracted. Press and influencers, too busy to give your game the attention it may have gotten in a quieter time of year, are likely to overlook it too.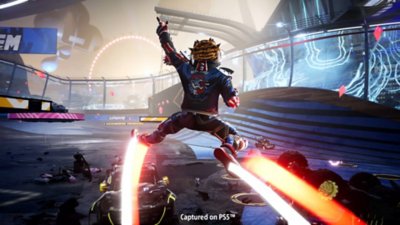 There's no better recent example of this than Destruction AllStars. A character-based vehicular combat title, this was an exciting reveal for the PS5 when it was first shown in June 2020. Destruction AllStars was a fast-paced and colourful surprise; but was quickly met with skepticism when its November launch date and $70 price tag was revealed.
For context, this would have put Destruction AllStars face to face with Marvel's Spider-Man: Miles Morales and Demon Souls. Even without the knowledge that both of those games would go on to be hugely popular for early adopters of the PS5, you could see this wasn't ideal.
Hearing the lack of optimism from the public, Sony later announced on their official blog that the game would be pushed back and would release as a free game for PlayStation Plus subscribers in February and March 2021. Almost immediately, the critical reception flipped on its head, with well-known outlets like TechRadar and GamesRadar reporting on the delay (in some cases explicitly supporting the decision). This, paired with a full refund for anyone who had bought the game, meant that a potentially negative reception to an exciting new game had cleverly been avoided.
How to Choose a New Release Date Window
While we don't know how Destruction AllStars will perform quite yet, it's got a much stronger chance of success now than it did initially. February is typically a quiet month as many of the biggest games either release ahead of Christmas the year prior or wait until the summer. Looking at February's upcoming releases – the biggest releases are largely Nintendo titles such as the Bowser's Fury DLC for Super Mario 3D World. As a PlayStation exclusive, Destruction AllStars looks to be the biggest new game for PS5 owners.
It goes without saying that ideally, a delay wouldn't happen in the first place, and there are actions you can take to help avoid one. Generally speaking, it's the final quarter of the year when the biggest games are released, as it's that sweet spot before Christmas where games are sold at their highest volume. Avoiding that time of the year, it's a good idea to scope out your direct competitors too. If you're releasing a first-person shooter with a focus on competitive multiplayer, check if any other highly anticipated games in the same genre are already being announced for your planned window. In Destruction AllStars' case – February is that perfect spot where nothing seems to be between the game and its audience.
How to Handle Your Delay from a PR Perspective
Delaying a game is a tough choice, but often a necessary one. You'll need to announce the news to the press and the public, and when doing so it's crucial to be honest about the situation. If the game needs more time in the oven, express that reality and the actions you'll be taking with the newfound time you've got. If you're worried the game will be squashed by far larger competitors, convey that worry in your statement and express why the new date you've picked is a better launch window.
Especially right now when Coronavirus has fundamentally shaken up, not only our personal lives but the way games are made, delays are accepted and often expected. Elite Dangerous: Odyssey was one such game that required more time due to the effects of COVID. In this short but to-the-point blog post to the community and wider gaming public, the reality of the situation was expressed clearly. Large milestones, such as the Alpha, PC release and console release, were given clear new release windows. The frustrations of the community were addressed and an apology was given where necessary.
As shown by high-profile games like Cyberpunk 2077, too many delays – or delays with vague explanations – can cause intense skepticism from those paying close attention to the games industry. Concerns regarding crunch have rightly become a high-profile issue among many invested in the hobby, only exacerbated by revelations on certain infamous games (Duke Nukem: Forever, Too Human, and others have been postponed due to intense development issues). Transparency is the key to avoiding this perception, alongside the aforementioned clarity when conveying the road ahead regarding development. Delaying a game once is a useful tool if you can afford to use it, but doing so repeatedly is a surefire way to suck excitement away from your title.
There are of course optional steps you can take if you have the luxury to do so – Sony was in a position to refund all preorders for Destruction AllStars which obviously helped lessen the blow to early adopters of the game – but this can be a pricey move to take.
The truth of the matter is that those excited for your game want it to be good, and they want it to be successful. Sure, there may be a small (but loud) minority who will express their displeasure – and a fair amount of disappointment all around – but the vast majority will be understanding. While delaying your game, or not, is a serious decision to make, the perception of doing so (if done right) is little to worry about.